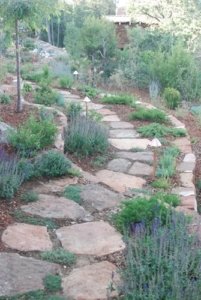 Hardscaping and Stone Masonry in Santa Fe
Patios in Santa Fe
Landscaping in Santa Fe almost always includes some form of rock work. No Santa Fe landscape project is ever complete with some kind of back drop. Never underestimate the value of quality stonework. I did, and while our gardens looked great, I was always left with the feeling that they could be better.
That feeling ended in 2006 when I was privileged to be joined by a supervisor with twenty years of experience of building some of the most beautiful gardens in town for professional Santa Fe landscapers, and a crew of talented stone masons that he had worked with for years.
A patio and rock terracing are extensions of your house, and the backbone of your Santa Fe garden. The quality level needs to be comparable to your other high profile investments such as your floors and kitchens. You hope to find solace and joy outside in the summer and you will be looking at it every day in the winter. Choosing your landscaper is as important as choosing a builder.
We consider our stonework to be the best in town, and we can modify styles to adapt to certain preferences. We love to work with clean modern lines, but it is also fun to "funky it up", or as one colleague called it "custom character".
Many clients prefer to see formal landscaping such as chiseled terraces with tight joints. Others prefer a little looser more natural look. Some walls that we build are perfectly level and straight while others can be curvy with multiple levels. Either way, our landscapers builds their project according to requests and puts a great deal of energy and pride producing a stunning finished project. Our multiple sources of stone enable us to choose from a variety of materials.
Flagstone styles can vary as well. Our gaps between our pieces can range from 1/4 to two inches, again depending on preferences. We set our patios into mortar, sand or gravel. The shapes that we choose to fit together are organic looking and chiseled on the edges to avoid sharp lines. Flagstone colors can range from white to beige to deep red.
Patios and paths can also be formed out of moss rock or mossy rock stepping stones allowing your landscape a more natural but very intense look.
Masonry fireplaces and fire pits are gaining popularity to enhance the enjoyment of any outdoor space, and to increase the outdoor season. Again we can build these very formal or more towards the funky style, or "custom character." These are often the centerpieces of Santa Fe outdoor landscapes.
Fountains, ponds and waterfalls are outdoor focal points for many Santa Fe landscapes, creating an oasis on the desert. A great waterfall is created by design, planning and, of course access to beautiful rock with the right character for the location.
With proper planning our Santa Fe landscapers can develop a custom outdoor space that it is a perfect compliment to the style of the house and preferences of the client.